The studio, at 4846 SE Highway 101 in the Historic Taft District of Lincoln City, is the center of operations for Bob Gibson (Blue Water Photography) and Jeri Knudson (JAKs Photography Studio). We are both Certified Professional Photographers. We bring our experience, skill and knowledge as the foundation to any photography project. We also bring enthusiasm for the creative process of producing your photography.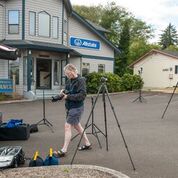 We have designed the studio to provide you with a comfortable and relaxing environment for your photography and preview sessions. The gallery room displays examples of our work and the various types of prints, books and albums we offer.
The camera room serves a dual purpose. It is primarily used for photography. We have a full array of props, lighting equipment and backgrounds. We have multiple dressing room and makeup stations to comfortably accommodate wardrobe changes and "final checks" of makeup and hair.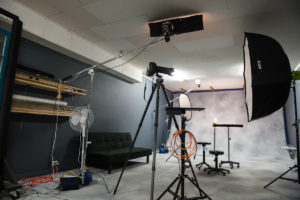 Our responsibility does not stop with the photography. The camera room also serves as our projection room. This is where you will have your preview session. We project your photographs using a color-calibrated system. We can show your photographs at actual size. We will ask you to take make a photograph of the wall where you anticipate displaying your photograph or photograph collection. We load this photograph into the software program and show you your images displayed, to scale, on your wall.